Dave Lewis has been Tesco's CEO since September 2014. As we said in an earlier post, his challenge is to counter the growing threat from discounters in the UK like Aldi and Lidl by holding on to a core set of customers who prefer Tesco's variety and convenience over the discounters' low prices. At the same time, he has to cut costs to support that still-big but smaller business.
But Lewis is likely to find that harder to do than we first expected. That is because a £12.99 whiskey from Aldi won the top prize in a blind taste test, beating many of the famous brands that Tesco carries. Aldi has now received 12 major accolades in the past three years for its drinks, along with awards for many other products.
The whiskey awards are a clear sign that ALDI is moving upmarket from a limited selection of low-priced generic products to a broader array of value-priced premium products. Aldi plans to offer nearly a third more premium products than it had in UK stores last year, and it's broadening its appeal with more fresh foods.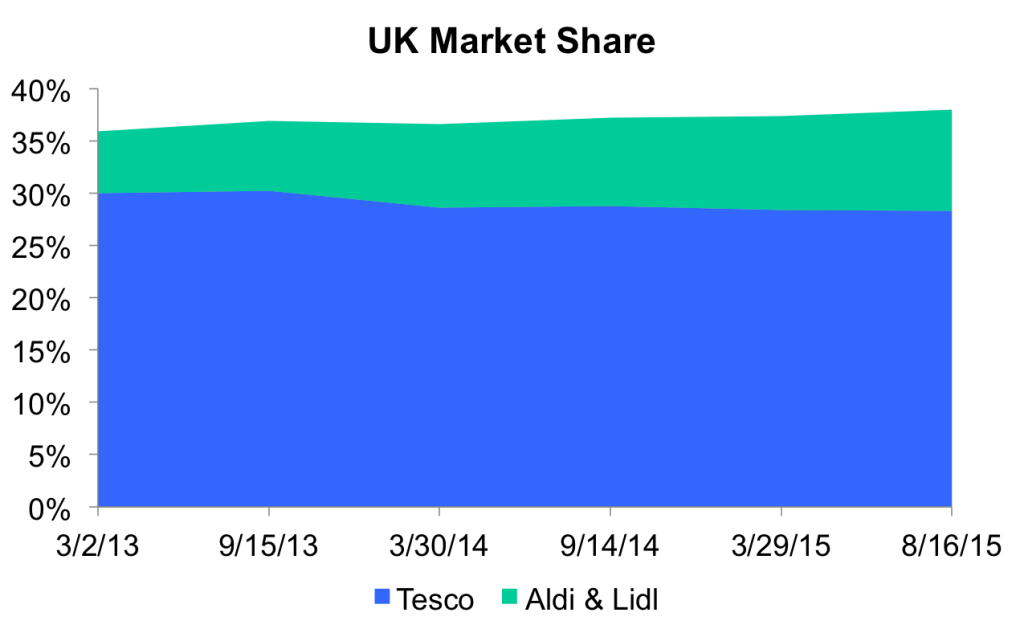 Aldi is after the customers Tesco plans to keep, shoppers who want higher quality and lots of choice. It's following a classic strategy used by disruptors in industries from steel to groceries to disk drives. Successful new entrants get more resources, improve their capabilities, and start to move upmarket, drawn by higher growth and profits.
They often keep a cost and pricing advantage as they move up, just as Aldi has vowed to do: "Whatever our competitors plan to do…we will not let them compete on price," said Matthew Barnes, Aldi's UK joint managing director. "We want to have a minimum of a 15% basket discount [to the UK's major chains…"
Sven Reinke, Moody's vice-president and senior analyst, said: "We expect Aldi and Lidl's combined share to reach 12-15 per cent by 2020." That forecast is consistent with Aldi's growth in the recent past; but if it's based on Aldi gaining only among discount shoppers, it may be too low. If Aldi continues to follow the path of other disruptors, its gains will accelerate.
Should Aldi cut deeper and deeper into Tesco's core customer base, who could fault Dave Lewis for taking to drink? We can only hope his bar is well stocked with one of Aldi's low-cost, high-quality scotches.